Real estate in Kalami area
Welcome to villa Kalami. A western style built dwelling, guest house and office. This piece of property is situated in a quiet area outside the village of Mastihari. A variety of views of the sea, surrounding islands, mountains and hills make the life experience on Kos a daily pleasure. Those who have Google Earth installed might want to 'fly' over to this location!
This site provides a variety of pictures and text to give some idea of this property. The experience tells us that only a real visit gives the best look and feel of this place.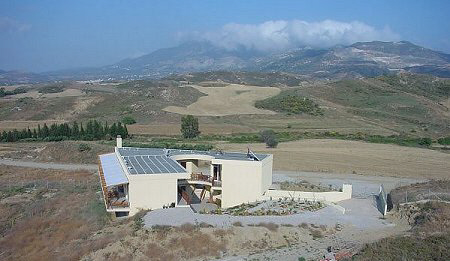 We have divided the information in a few chapters (see left column):
This Introduction
Including a rough picture on the topical context
Design
The concept of this house, basic plans and 3D architectural impressions
Exterior
How the house looks from outside
Interior
How the house looks from inside
Facilities
Mainly technical solutions to guarantee an easy living
Impressions
A few pictures on the surroundings of this property and some snapshots of quiet moments
Contact
Ways to get more information
Enjoy your tour around villa Kalami.
(all pictures, except the one on this page, you can click to magnify)
See also